The Board of Intermediate and Secondary Education, BISE Punjab Boards Matric and Inter Results has been delayed due to unavailability of Practical Marks.
According to the news published on 13th September, in Roznama Express, the Matric and Intermediate Results of Punjab Boards have been delayed. The results shall not be announced on 14th and 17th September, for Matric and Intermediate Students respectively. According to the PBCC, the results dates shall now be in between 30 September to 7th October. The final decision is subject to the approval of Chief Minister Punjab Usman Buzdar.
Important Notice: BISE Punjab Boards SSC Part II (Matric) Result 2020
The Punjab Board Chairman Committee, PBCC consulted Punjab Higher Education Commission, PHEC for SOPs and standards for the award of Practical marks to Matric and Intermediate Students. But they didn't receive a response from HEC till September 12, hence the results have been delayed. The practical marks will be awarded after the response from HEC. All papers have been marked, only practical marks are to be added. The final decision is subject to the approval of Chief Minister Punjab Usman Buzdar, so the results can be announced on any day.
Also Read: Intermediate 12th Class Roll Number Slips BISE Lahore
According to the sources, the matter will be discussed on Punjab's cabinet meeting on Monday and if approved the results may be declared next week.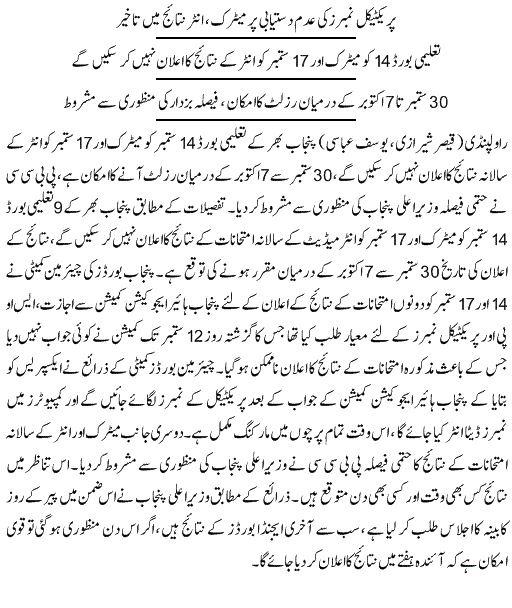 Also Read: Whatsapp Upcoming Features 2020
---
FAQs
Q. Why is the Matric Result 2020 delayed or postponed?
Ans: The Results are delayed because the Practical marks could not be added in the theory marks.
Q. The boards haven't issued an official statement, how can you say results are postponed?
Ans: The news regarding the Matric Result postponement was published in Multiple Newspapers on Sunday, 13th September. A snippet of news is also mentioned in our post.
Q. What are new dates for Matric and Intermediate Results 2020?
Ans: There isn't a confirmed date yet, but according to PBCC the result dates may lie in between 30th September and 7th October. But if the issue of practical marks in resolved in today's cabinet meeting, it is possible that results may be announced within a week.
---
If you know educational news, like our Facebook page for timely updates